Internet Profits Partner Certification

Hi Folks. Well, I should have started this post a few weeks ago. I signed up to Dean Hollands Internet Profits Partner in October. This is a long term project for me, I'm excited and focused on the next few weeks. Here;s my story on this project so far.
Certification:
Before starting the course I had to be certified by Dean. I had to complete 8 modules with 25 topics which didn't take long to complete. The 8 modules consisted of:
The Sales Process
The Success Metric
Creating Your Number
Six Figure Roadmap
Understanding Traffic
Strategy
Leverage
Graduation
At the end I received my Internet Profit Partner Certificate.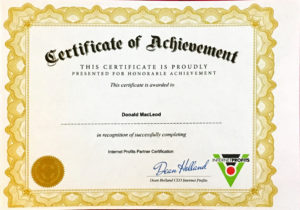 Happy Chappy. Couldn't wait to get started. There you can see my certificate below. Plus, you get a free T Shirt.
I forgot to mention, before you start the certification you need to join the Facebook group and you also need to register for 2 weekly webinars, 1 on a Tuesday and 1 on a Thursday. All the details available in the Weekly Coaching Section.
Week 1:
First video is a Welcome from Dean Holland explaining what's going to happen for the next 30 days. He goes into detail and you need to take it all in. The next video:
Start Here
This is the Getting Started Partner. In this video you will learn the following:
Getting Started
How to Plan Your Strategy
How to Get Leads Into Funnels
How to use Your Referral Links
On that page you have access to a Mindmap which will help you along the way. Do use it as it does help. Next wwe're heaxding to Day 1.
Day 1
This part of the Challenge is about WordPress. You'll watch 5 videos, which are:
Things You'll Need
Domain Name
DNS
Email – Set Up Domain email.
I'm sure some of you will know all about WordPress and how to set up a webite. There's nothing wrong with a refresher, like I did. It certainly helped. You'll find plenty of training on Youtube. If you do have a problem you can contact the expert Glenn Shepherd Internet Profits Partner Go To Technical chap. That's Day 1 concluded.
Day 2
Welcome to Day 2. This is the next phase of setting up your website. Today there are 5 videos again which consist of:
Installing WordPress
Dashboard Overview
Basic Settings
Essential Plugins
Essential Plugins addendum
Welcome to Day 3
Today there is only 3 videos to watch. Won't take you long.
Installing a Theme
Basic Theme Setup
Recaptcha
You should be getting excited now. Your website will soon start to take shape. Let's look forward and see what Day 4 brings.
Day 4
Crack on with todays videos, won't take long but your website will take shape after today. Videos are about:
How to Create Pages
Writing Posts
Images, How To Upload
Hyperlinks – Very Important, How To Add to Posts.
Creating a Gravatar. Make sure you get one. Easy to do.
Day 5
Today is all about Legal Compliance Pages. This is a must, you cannot ignore this one. Dean will guide you in this video. The policies he talks about is:
Privacy Policy
Terms of Service
Earnings Disclaimer
Delivery Policy
Cookie Policy
In this video Dean will walk you through each policy. Dean has templates available underneath the video for that day. You may use these templates as educational guides to learning what you need to have on your website, you will need to seek legal advice to make sure the pages you create are legal for the type of business you are running online.
Week 1 nearly complete. Look forward to Day 6.
Day 6
Today you publish your first post. Why not post about your first week. How you came to sign up with Internet Profits Partners. Have fun doing so.
Day 7
Today you test everything you've done. Spend abouy 10 minutes going throughwhat you have dome this week. Any links you may have, check that they work, any videos, check that they play. Are your Legal Compliance Pages working. It's just to ensure there are no blatant mistakes.
That's you done for Week 1. I hope you've enjoyed reading this post. If you think you would like to join Internet Profit Partner, I would recommend it.
Next week I'll let you know what's in week 2, it gets even more exciting. Please leave a comment below.
This is Donald signing out.
P.S. Did you know that Affiliate Marketing as we know it is Dead, Read all about it in the